Detours, Delays and Destinations

Nelvin Ng:

Annyeonghaseyo!!! Sumimasen, ohayou gozaimasu! Watashiwa Nelvin desu. Welcome to the land of the rising sun! We began our journey on a wet and rainy day. We took a very (very) long time to travel from place to place! It was not because we did not know how to go, or what station we were supposed to go, but the delay was due to the types of trains we took!!! We learnt that there are different types of train (express, rapid or local), different exits in the train station (north, south, east, west, central and even south east exit). Take a wrong exit and you would end up like a lost sheep in a busy city!
Things that (i) we did today - I woke up quite early despite sleeping at 3am, thanks to my phone alarm that I set wrongly and it RANG at 5.30am!!! zzz... So I decided to take a walk around the neighbourhood near our hotel to find RAMEN for breakfast. Sadly, I ended my search with only an Udon, which wasn't that bad after all. We met at 9am to have our devotion by Pastor Alan, and then off we go! Our first stop was Evangel Tokyo! We had brought along our goodies from Singapore to Evangel Tokyo for the Little Red Dot Party this Sunday as we would be cooking for our friends of Evangel Tokyo. We sorted out the ingredients and assigned different ones to cook for that day and after which Pastor Peng treated the whole POR team to a nice welcome lunch at Shimokitazawa.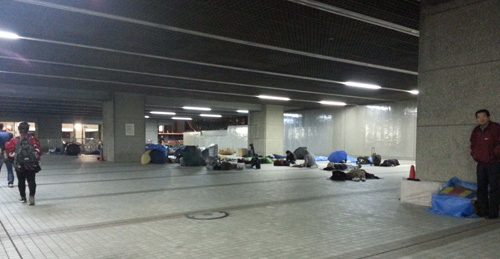 After lunch, we went to Sanyukai to visit Sister Rita Burdzy, and we reached there super late, because of the delays here and there as we were trying to familiarize ourselves with the transportation system. We met some new friends there. We were introduced to one volunteer from France, and another from Switzerland. Sister Rita shared to the team about the history and current situation in their ministry. After Sanyukai, we met up with Pastor Peng and the volunteers to help them in their Seed ministry to the homeless. We were divided into 2 teams. One team headed for Shinjuku led by Calvin Pang and another team followed Pastor Peng to Shibuya to give out goodie bags to the homeless.
The weather today was quite warm in the morning. However by evening, it started to get really chilly due to the rain. I took a picture of the people taking the train and it could easily be mistaken that it was taken in the late evening but it was only 5pm and the train was packed with people!!! Despite losing our way at times, detouring in the rain, we manage to visit the places and do the things we had planned for the entire day. We ended our day with a nice dinner and headed back to rest early. Do continue to pray for us for the rest of the journey, Kamsahamnida!
Nicole Wong:

Sitting here at Shibuya Station Mark City entrance, I'm catching my breath from the day's hectic travelling to and fro. As I reminiscence the day's events and my past visits, I realised I do miss the station jingles and beautiful train masters' voices as they announce the train's next destination amidst the perpetually rushing crowd. It's nice to be back.
"Perpetually rushing".... everyone's in a rush... but when I take a closer look around, I begin to see the quieter, stiller side of the community: the homeless...
Ok, here comes Pastor Ming Tian and entourage. We've just completed our leg of distributing the goodies to the homeless at Shibuya area and were waiting to meet up with the others doing the same at Shinjuku area. Off to dinner we go!
Our morning started with light drizzle as we headed towards Evangel Tokyo at Shimokitazawa. Little did we expect to experience an adventure in the subways (consisting of overrun stops due to express train, misunderstood station names, wrong exits and more fun stuff).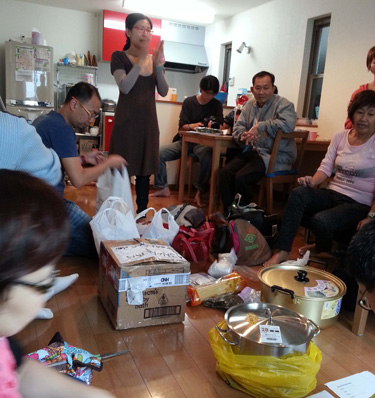 Revisiting Evangel Tokyo is great, and even better now with a purpose at hand: doing our little part in helping to create a community right here. Quickly we gathered our barang barang of all the ingredients we brought from Singapore for the impending Tokyo Red Dot party, ran through the cooking procedures as Pastor Ming Tian delegated duties for the party proper to all the peacemakers and volunteers. We were rewarded with oiishi lunch & then off to Sanyukai we went, undeterred by the gloomy skies & occasional showers.
Having read about Sanyukai from EFC, seen Sister Rita in photos and the Sanyukai video that I got to watch, I felt a strange familiarity, even though I'm meeting her in person for the first time. And such a coincidence to find out that Sanyukai is just located behind the street of Meiji-dori in Minami Senju at the hotel where I stayed for the entire week during my last trip! I wonder if we would have made contact with them if we knew then.... and what could we have offered in but a week's visit?
Looking forward, today's just the beginning of our journey.... I'm quite sure we will continue to be inspired by God's people working in their own ways to reach out to those who need Him here.... ja mata! ^_^v

relational:
missional: