Understanding Autism
Recently, it was reported that Faith, 11-year-old daughter of popular blogger, Mr Brown, got lost at Dhoby Ghaut MRT Station while on her way home with her mum and siblings.
Faith eventually got on a train heading in the direction of Harbourfront on her own. She was found after some train riders spotted the girl lying on the floor of the train and laughing to herself. This laughter was not an act of mischief but an expression of Faith's intense fear. Faith reunited with her family later that evening. While most are relieved that Mr Brown found Faith, not many understand the issues with raising an autistic child.
Autism is not just the lack of social or communication skills. It is the inability to process and comprehend life's basic functions. In gist, autistic children have problems making sense of the world around them. Some of them never knew that it is not acceptable for one to go over to the next table at the restaurant and help himself or herself to the food; some never knew that you don't have to hug or kiss a classmate of the opposite gender to show that you love and care about them; some never knew that they don't have to finish all the food laid on the plate or drink up the 1L of water in the bottle when they are full.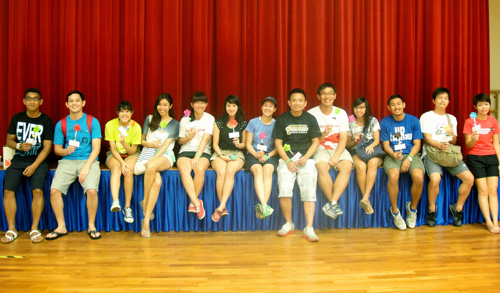 The youths of Region D have continued our journey with autistic children at Rainbow Centre as part of our deep justice project since the beginning of this year and this entails weekly volunteering sessions at the centre. This experience has allowed us to enter into the world of these children.
Perhaps the best way to understand an autistic child is to observe the child's response in an unfamiliar setting. Recently, our volunteers accompanied the autistic children together with their teachers on an outing to the newly opened Sentosa Water play area and the following is a narrative of the day's outing by Vic Toh, one of our youth volunteers.

"It was an end-of-term Sentosa outing for the children at Rainbow centre. Before the start of the trip, the teachers emphasised to the volunteers the need to understand that each and every one of the kids is unique.

I was assigned to chaperone an adorable kid named Davan. With absolutely no prior experience with autistic children, I tried to communicate with him, but it was to no avail. Thankfully, we found a toy bus that managed to keep him entertained. It was a first step to establish interaction with the little guy. He was smiling.

Throughout the bus journey to Sentosa, his eyes were glued to the window and he would exclaim whenever he saw something interesting. Arriving at the water playground before getting him to change into his swimming suit was a huge mistake. Not only was it a difficult task to get him to change before playing but it was also my first encounter with diapers. Water clearly had an instant therapeutic effect for both of us, when his tears became smiles accompanied by my sigh of relief. While he was playing, I observed that he behaved just like any other boy.

We then made our way back to school where we got to eat and nap. It was almost impossible to get the children to sleep! Then, there was some cartoon screening and mini games, before the day camp was summed up. During the games, it was evident that Davan was tired and he showed it through crying.

Being one with speech difficulties, he communicates mainly through emotions and his sense of touch. He cried to show me that he wanted to be at the playground. There were instances when he held my hand to do things he knew he couldn't. He tried opening the bus door using my hand to show he was fond of the rides. He covered his ears to indicate that the surrounding was noisy. These tiny gestures are simply the way this little guy expresses.

When it comes to autistic children, patience is key. It is easy to be patient with them for a day or two, but living and interacting with them everyday needs something more than just patience. As many challenges will set in on a daily basis, it is eventually the love from parents and teachers that would offer them a chance to be happy and live life like us."

relational:
missional: