Deep Impressions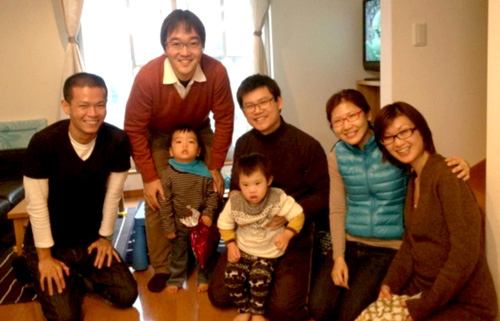 I have always wanted to experience going on a missions trip, as it would entail experiencing a new culture as well as impacting the lives of others. However, a reluctance to step out of my comfort zone has always prevented me from acting on this desire. It was therefore probably God's timing that, having just finished my second year studying in Australia and experienced living outside my comfort zone, I had the opportunity to be a short term volunteer with Evangel Tokyo. Despite the short notice and my reservations about not understanding the Japanese language, I felt the peace of God in my heart and decided to go.
In this short span of two weeks, I have learnt so much about Japanese culture and the work that God is doing there. In particular, three episodes have really left a deep impression in my heart and best epitomise the lessons I have learnt from this trip.
Once a month, Pastor Mingtian will drive over to Minato Mirai, in Yokohama, to share to the homeless in Pastor Funatsu's church. In Japan, the homeless are the outcasts of society and considered nuisances. Many of them have lost hope of ever making it back in life. However, it is often only in the darkest pits that men are willing to reach out to God, and God is certainly doing a work through this church. In between having to song lead alongside Pastors Mingtian and Joanne (in Japanese no less!), setting up the necessary equipment and appeasing an extremely energetic Ezra, it was really humbling to see over a hundred homeless men worshipping and listening to God's Word. Despite hearing stories about how it might be dangerous to mix around with them, several were friendly and helpful, greeting me with a smile and assisting in tidying up the room after the service was over. Pastor Mingtian shared a powerful message about the meaning of Christmas, which I hope touched the hearts of the homeless as much as it did mine. Although society and family might have given up on them, I am sure that God has not, and that He has a plan for each and every one of them.
One afternoon, Pastor Mingtian and I cycled about half an hour to Shinjuku Park to distribute goodie bags containing a packet of biscuits, a packet of heat pack, as well as a pamphlet about Jesus and Christianity. When we arrived at the park, I found one area to be distinctly different from the rest. While the majority of the park was really nice, clean and presentable, there was an area where there were many tents set up, and cardboard boxes and clothes stacked on trolleys. These were where the homeless camped out, and it was a sight that one would never expect to see in Singapore. One thing that especially struck me was how they had to brave the cold winter nights with nothing but a piece of canvas over their heads. During the period that I was there, the temperature would go down to 2-3 degrees Celsius at night, and it was only going to get colder as winter progressed in the coming weeks. I could not imagine how it must be like for these people to sleep without the heater and shivering under the blanket. Handing them heat packs was certainly the least that we could do to help alleviate their situation. Another thing that struck me was the sincerity and gratitude that they showed when we passed them the goodie bags. While it was just a small token, I could see in their eyes that they were truly thankful and appreciative. Often, we are blessed so abundantly that we take many things for granted. I guess that it is only when we have nothing that we will truly appreciate the simpler things in life.
On the penultimate day of my stay in Japan, we held a small Christmas event for the families of Ezra's classmates that Pastor Joanne had invited. Due to some last minute circumstances, only one family was able to make it. However, it was arguably a blessing in disguise, as we were able to have really good fellowship over lunch. We prepared local favourites such as fried bee hoon, chicken curry as well as kaya toast, which thankfully were well received by our guests. Even the kids were enjoying themselves – Ezra was extremely excited when he saw that his classmate had come to visit, and they were soon engrossed in playing toys, watching DVDs, and even dancing together! Before we knew it, a few hours had passed, and they had to leave, but with new friendships formed, old friendships strengthened, and promises of future gatherings. Through gatherings such as this, Evangel Tokyo has reached out and created friendships with many families and young adults. I believe that when our Japanese friends see the genuineness behind our actions, they will see a difference in our lives, and eventually get to find out and experience for themselves the reason for this difference – having Jesus Christ in our hearts.
This experience has left an indelible impression in my heart, opening my eyes to the needs of the Japanese as well as the work that God is doing there. In a nation steeped with tradition and custom, I have also learnt so much about their culture, and made many new friends.

relational:
missional: