W Party
Christmas came early this year as our community groups celebrated Christmas with "W-Parties" all over various parts of Singapore on Wednesday, 14 December 2011. This was a special occasion to bring Christmas cheers to others, catch up with friends, make new ones and enjoy great conversations. Here are some reflections from our community groups on their W Party: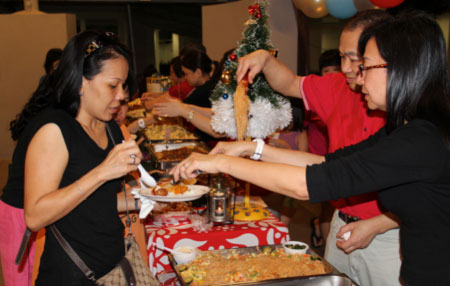 Vincent Ong, Yishun D16 CG:
There are two blocks tucked right at the back of the newly erected blocks in Jade Spring, along Yishun Road. Almost nobody knew the existence of these 1-room flats in Yishun, they are really rare in Singapore now! YD10 and YD16 decided to have W-Party for these two blocks as they are the mostly financially challenged. What is Christmas... without blessing the needy? We've been called to be a blessing!
During our saturation, we noticed that a good majority of the residents are of the Malay, Indian families and also the Chinese elderly living with their children and grand children. They were receptive and happy to receive the invitation. During the W-Party, we received a crowd of about more than 150 peoples. Though the registered names (represented each family) were 80. We had buffets, gifts, songs and we truly believe...every single souls are touched. Praise the Lord!
Frances Lee, Marine Parade 2 CG:
Our visit to St Andrew Commuinity Hospital for the season was a very purposeful one. We were told by the officer-in-charge that she had never seen the kids this happy. Some of them couldn't speak but kept smiling the whole time. We gave our little '1 hour' of time, but we were blessed with a big load of delightful and thankful hearts. Truly, these were precious moments.
Ong May Leng, Seng Kang 6 CG:
When presented with a task to spread the festive cheer and glad tidings, Seng Kang 6 (SK6) decided to bring the party to the homes literally! Working with Seng Kang Family Centre, SK 6 went grocery shopping, packing and distributing the goodies in full force. Guided by the social workers, SK 6 visited and chatted with four sets of families. Judging from their smiles and laughter, it was clear that a party did take place in their hearts!
Leslie Neo, Seng Kang 3 CG:
Sengkang 3 was excited that this year, instead of having a W-Party to bring people in, we could go out to bring some Christmas cheers to the low-income residents of Blk 15 & 16 Marsaling Lane. Based on collective donations from CG members, we purchased Oreo biscuits to distribute to about 280 household units. The CG members felt that it was definitely more meaningful to be involved in such activity & our spirits during that night of distribution was high. The smiles we received from households who were appreciative of the free biscuits encouraged us greatly. We managed to engage in conversation with over 40 people collectively. All in all, we went away feeling we had received more than we had given; indeed it's more blessed to give than to receive!
Chia Chee Hong, Macpherson 2 CG:
The CG went to visit Geylang East Home for the Aged. Spoke to one of the elderly man who is seventy years old and has been staying at the home for 8 years. While talking to him, he shared his life story openly. He is not married, no children, parents passed away, no kin at all and I could see tears in his eyes during the conversation. That moved me to tears. The elderly people were very touched by our giving of the gifts. Towards the ending as we sing carol to them even though it is out of tune, they were blessed by it. The superintendent was thankful and expressed his hope to see us again next year.
Lam Leng Leng, Hougang 7 CG:
It saddened my heart to see these children from dysfunctional families, needing love and attention. We were pleased to bless them with breakfast (milk, cereals and biscuits) and stationery as gifts. Our hearts melted when we saw the joy, excitement and thrill of the children as they received the gifts. To God be the glory! It is His Love that touched our hearts to give love and bring joy to the needy.
Alicia Ho, Yisun A1 CG:
This year for a change, our CG decided to reach out to others instead of having our own gathering. Two of our CGs combined and went to Chen Su Lan Methodist Children's Home to celebrate Christmas with the kids. Even though it was only a 2-hour event, not only was it heart-warming, I believed we had touched some of the hearts of the children. Almost all of them were rowdy and did not pay attention at first but after warming up and getting comfortable, they actually sat down to listen and then actively participated in the games together. The night ended off with happy faces while we handed the kids their Christmas gifts! Even though a Christmas present can make the children happy, but what can make their day would actually be our care and attention.
Cindy Chew, Bukit Batok 2 CG:
A total of 71 elderly residents turned up at our W Party which started at 6.30pm on 14 December 2011 and enjoyed a time of interaction. We got to know our Bukit Gombak residents better, understand more of their needs and spread the cheer of Christmas to them. This was part of our initiative to be relational in the community. On every 2nd Saturday of each month, we provide them with free breakfast and interact with them. More often than not, what they just need is to have someone to talk to. On one occasion, they asked if we are part of the Residents' Committee or are sponsored by them, but we told them we are not and they were surprised that we are doing this out of our own pocket. Slowly, they began to understand what community spirit and bonding is all about and we are also encouraged by them warming up to us and coming to our W party. Being relational is what Jesus would do and is a timeless value to share.
Henry B, Woodlands 4 CG:
We thank God for His grace and prayers answered for good weather and good turn out at our W-Party which was held in Orchid Country Club, Yishun on Wed, Dec 14th 2011.
Our CG members together with some invited friends and family members had a wonderful time together playing a session of bowling. We ordered various delicious finger food like fried chicken wings, fried nuggets, fish balls, curry puff and spring rolls. While the children enjoyed the snacks, the adults had a great bonding time, cheering for each other when members had a strike or even misses. Most of us were not regular players and in fact some of us shared the same experience whereby the last bowling game we had individually was several years back.
We ended our party with a planned gifts exchange. This year, we were thankful to Gaylonda who took the initiative of preparing door gifts for all who were present. We thank God for the spirit of joy and giving!