Deeper Roots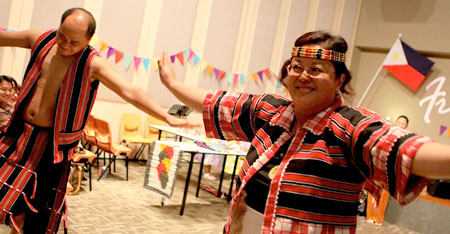 In April 2002, my three children and I migrated to Singapore. It was a decision to follow my husband, Elmer, who has been here since February 2001. We had to undergo a series of adjustments upon arrival and among them were looking for a church. I started to search near our place because our children then were very young. I was not so sure of what was in stored for me, and despite the combinations of feelings, doubts and emotions, God eventually brought me to Evangel in July 2003. The emphasis of souls in the message that Sunday became a seed implanted in me. This began a journey that God had wonderfully arranged for me.

Later that year, my family came to the church too. My husband was immediately attracted to the worship band. He has a passion for music and had always been part of our church choir back home. We were both a product of Sunday school in Baguio City Philippines, and our children eventually became part of the Sunday School too. They came to like being a part of The Kingdom Kids (the children's church) on their first day. Initially, Elmer and I only had the intention of being part of the community and to just be church attendees. God gradually opened the way for us to serve in Pinoy Connection, a bi-monthly gathering for the Filipinos - Elmer in the music department, and myself with one of the care groups.

January 2006 was when we opened our home to host a Community Group. Through the Community Group, the bond and friendship of the leaders and members developed. The Community Group has been one of God's instruments in nurturing a few key leaders of our Pinoy Connection, an avenue where we were able to invite, mingle with our Filipino friends and also to have them join us at our Sunday gathering. I could still remember one occasion where I came to know a family in my neighbourhood and they are now not only attending Evangel regularly but are actively participating in a Community Group and also helps out at our Pinoy Connection.

It is a great privilege and blessing to help out at Pinoy Connection. Through my journey with my fellow kababayans (countrymen), God has developed both my extrovert and introvert personalities. Although I am more of an introvert person, I have learnt to come out of my comfort zone to develop deeper relationships with fellow kababayans. I enjoyed listening to the pinoys' (filipino) laughters and seeing them in high spirits. There were also times that I would lend them a shoulder to cry on. It was during those moments that I would ask God to fill me with the knowledge of His will in all wisdom and spiritual understanding, that my walk may be worthy of Him, and may my actions or advice be pleasing to Him (Colossians 1:9-12). It is so encouraging to see the radiance of God's guidance for the Filipino Christians. God continues to work mysteriously in their lives and also my life. May the love among us continue to be nurtured and draw us closer to God. Finally, this is my prayer for my journey with others: "Teach me how to build others up, to encourage them in the precious faith you've imparted to us." (Romans 15:2, 5-7)