Come Fly With Me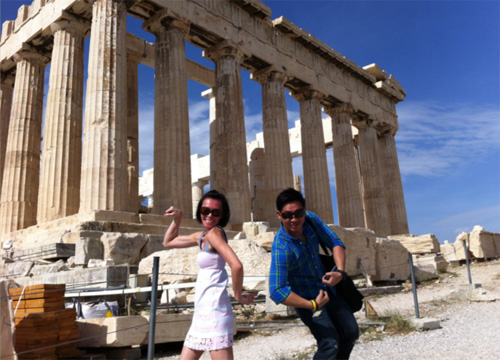 They were in New York, when I first got in touch with them. When we finally met up a month later, they had "globetrotted" Frankfurt, Dubai, Cairo, Istanbul, Sydney and Hong Kong. Zipping in and out of countries always conjures up memories of holidays, fun and escapades but what happens when flying becomes an almost everyday routine?
Reuben was then an energetic 22-year old young professional cooped up in a publishing firm in Malaysia that promised him a miserly salary increment of 20 Malaysian Ringgit. That was the last straw for him. When Reuben came across the ad recruitment for airline cabin crew, he saw it as a golden ticket out of his misery and his resignation from the publishing firm initiated a coup amongst the already disgruntled staff. Meanwhile, across the causeway, Sharon was looking for a job when her girlfriend saw the ad and nudged her to give it a try. The thought of being in a "glamorous" job did not cross her mind; it was simply another job opportunity. Both Reuben and Sharon took a leapt that would eventually bring them around the world and into each other's path.
Every flight is different. One is apt to misconceive that it is easy to be a cabin crew. In reality, there are many emotional and psychological issues at stake more than just serving in-flight meals. With each flight, you are dealing with a new set of passengers and crew on board. Hence, you learn to read people, anticipate their needs and have a rough idea of what they want even as they are walking up to you. One could easily discern the moods of passengers when they snapped at you for "Straight" Times. A Caucasian might just smile and genuinely inquire about your day or you might just encounter a grouchy businessman who had perhaps failed to clinch a business deal. No matter what thoughts traverse your mind, you would have to maintain your best composure. As for the cabin crew you are working with, you might be paired up with a new crew who is nervous or a senior crew who is not keen on the job. Also, mishaps do happen such as when the cart door came loose after take off and you lose 20 trays of meal!
It was on the flight to Bombay in 2002 that Reuben and Sharon met each other. Someone didn't want to do the flight that day and somehow they ended up working on the same team. That first meeting sparked off their courtship of 10 months before they tied the knot in 2003. They were subsequently blessed with a beautiful daughter, Hayley who drew both of them closer to God. "When Hayley was born, she was severely underweight and had to be warded in ICU for 2 months. There, we met a set of parents who were going through the same ordeal and they invited us to their community group. There onwards, we journey in faith with God and He pulled us through our difficult moments." Both Reuben and Sharon have now been married for 8 years.
Being a cabin crew is definitely not a glamorous job. Everyday you wake up at 3am in the morning while everyone else is sound asleep and you struggle through the notions of calling it quits and wondering why you torture yourself with such a laborious routine. You begin to miss your bed and your favourite local food like "Bak Kut Teh," "Fishball noodles" etc.
It is tough to keep work, family and faith in balance. Work jargons unconsciously invade the home as you request your partner to "go check the toilet or galley." The job also entails sacrifices to be made. You do not get to attend church as regularly as you would love to but you do get to visit churches in London, Paris or San Francisco. Reuben and Sharon learn to centre God in their lives and deal with problems as Christ-followers would. In scenarios when it is easy to get away with lies, God reminds them to tell the truth and everything would just work out fine. Reuben and Sharon also learnt to seek the moral support of fellow Christian cabin crew and even have a spiritual discourse with them at the galley up in the air.
Despite the disruption of family time, Reuben and Sharon worked round the situation by spending quality time with Hayley whenever they touched down. They would read with Hayley, play board games together, go kite flying, tell her stories from the Bible and also visit the zoo. Reuben and Sharon are also active volunteers at Hayley's school and on some Fridays Sharon also teaches moral education to the students. Reuben and Sharon are also thankful for their supportive parents who would pitch in to help take care of Hayley. However, the toughest moments would be when you could not be physically there for your child to console her when she needed you most. Those were the times that they simply have to rely on God and remember her in prayers.
Despite living out of their suitcases and time away from family, their journeys have taken them to places, people and new perspectives. One is reminded that even landmarks are transient such as the disappearance of the Twin Towers in New York City. Also encountering the street kids in Ahmedabad, India, is a humbling reminder of the blessings of their family and home in Singapore. On a return flight from Zurich to Singapore, Reuben had a near-death encounter when he suffered from a severe seafood allergy. Thankfully, an ER medical doctor with a full medical kit was on board. Dr Karl saved Reuben's life and to date remains his good friend. On a lighter note, what happens when the passenger approached the cabin crew to help him get the phone number of another crewmember who happens to be your wife? You just have to firmly and politely decline - "Sorry Mister, I can't help you. She is my wife!"

relational:
missional: