A Tough Nut To Crack
I come from a family in which every family member is a Christian except me. Naturally, my family members encouraged me to attend a Church and come into a personal relationship with God. Despite many "holy conversations" my family members had with me, I remained a tough nut and did not take the initiative to attend any Church. In other words, my life went on as usual and Christmas Day to me was then just another public holiday.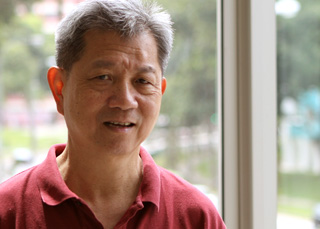 I walk past Evangel Family Church every day, as my home is situated just behind the church. However, at that time, I did not feel the need to be connected to the church. I did not even pay much attention to the colourful banners on the iron gates with information about the church activities. In 2007, I reflected upon my life and felt that I should have a spiritual life. Coming from a Christian family, it was not a difficult decision for me to join a church.
I was on my way home from work in late November 2007 when I paused to check out the church that evening. I stood behind the iron gates and surveyed the church premises. There was no activity that evening. The atmosphere in the church was quiet and serene. However, something caught my attention – it was the Christmas tree. As I stood behind the iron gates, I could hear the buses stopping, passengers alighting from the buses on their way home and bicycles passing behind me. Nevertheless, I was not distracted by those activities. I just looked at the Christmas tree. I continued my way home after a few minutes but I looked up at the cross on the church building as I walked past its main gate.
I decided to attend Evangel Family Church on the first Sunday of January 2008 as I wanted to have a good start for Year 2008. It was the first time I looked at the sign board of the church and noted that the English service is scheduled at 11.00am.
I was early for the 11.00am English service. An usher directed me to a seat along the centre aisle. I sat there for a few minutes but was not comfortable about the seat. I decided to move to a seat along the left aisle. A couple of minutes later, I wanted to go to the toilet. As I walked along the left aisle, I noticed a person in coat and tie standing near the main door. I guessed that this person must be a church elder. The person greeted me and introduced himself as a church pastor. He asked me whether I was a visitor to the church. I replied that it was my first visit to the church. He welcomed me to the church and hope that I would continue to attend the Sunday services.
The sermon message that Sunday was "Have Faith in God." I felt that the message was very appropriate for me. I came into a personal relationship with God in April 2008 and commenced my journey as a Christ Follower. Despite being a tough nut, I finally cracked.
Isaiah 43:2 has been a great encouragement to me during my journey with God: "When you pass through the waters, I will be with you. And when you pass through the rivers, they will not sweep over you. When you walk through the fire; you will not be burned; The flames will not set you ablaze."
My life has changed after I came into a personal relationship with God and it is now three years since I started attending Evangel Family Church.