Reflections
It rained heavily that morning but the eager participants who had signed up to fast and pray during the 3-day journey of Reflection were not daunted. They had intentionally taken time out to join the pastoral and office staff to "contemplate areas in our lives which required changes and in turn, cultivate a new rhythm to live, work and love as God had intended for us and be bold to create new journeys."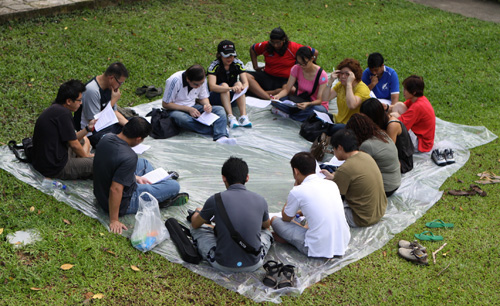 Day 1 began with a time of self-reflection at Botanic Gardens, away from the hustle and bustle of our cityscape. The rain turned out to be a blessing. The air was refreshing, cool and conducive for the participants to prayerfully ponder upon 3 main areas in their lives that required changes and the steps they would like to take in seeing these desired changes in their journey. We were divided into 4 groups with the pastors as their guides and facilitators.
What was remarkable at the start were the openness and learning posture of the participants who willingly shared their perspectives and insights from their readings of Genesis. We were there to learn from each other. Another significant segment was the stories that God was and is still weaving through the lives of different individuals. Over the 3 days, each of us got to tell our story. We talked. We listened. We prayed. We identified with the person. We were deeply touched and moved by the stories. We marvelled at the goodness of God. They were stories of the struggles in our lives, the hope and redemption that we found and the transformation through the love of God. Leaving the tranquillity of the gardens, we took a walk down Orchard Road into the heart of the city. We walked. We prayed for our city. We observed people with different agendas – office workers on their way for lunch, tourists busy with shopping and taking in the sights of the city while we were there with a heart open to God to speak to us about our city. We concluded the day with a creative time of canvas painting. It does not matter whether we had artistic skills but everyone had fun and we broke fast together with a yummy western meal.
Day 2 began at the height of Henderson Waves as we resumed our readings of Genesis and sharing of our stories. However, one of the main highlights of Day 2 was our visit to Rainbow Centre Yishun Park School that caters to the needs of children with "intellectual disability, multiple disabilities and autism spectrum disorder." It was an eye-opener for the majority of us who had never come into contact with these children. As we navigated through the various classrooms and facilities, we had the privilege to volunteer in groups of three in an assigned classroom. My group ended up in a classroom of 4 autistic kids who were put together according to their level of cognitive skills. Initially, it felt awkward as we stood in the middle of the classroom trying to figure out what we could do to help. However, we were soon put at ease as the classroom teacher patiently engaged us with our torrent of questions.
We never realised how little we knew of autism (ASD) until we stepped into their world of orderly systems and routines that are set in place for the kids to help them to function. Someone in our group pointed out that these kids do not need our pity but rather our love and acceptance. The kids in our classroom were non-verbal and one particular child could only articulate "noise" that punctuated the classroom at regular intervals, verbalising his unwillingness to perform the tasks assigned to him. Apparently, the noise he made triggered a dramatic "meltdown" of another autistic kid in a classroom next door, causing the child to throw temper tantrums.
As we sat in the classroom to observe the kids, we begin to glean a better understanding of the behaviours of autistic kids. We had brought along some M&Ms and I had asked the teacher's permission to give one boy a packet during his snack time. This boy loves chocolates and Oreo cookies and he would sniff at his food before putting it into his mouth. The boy immediately tore open the packet of M&Ms and some of the M&Ms that were spilled onto the floor ended up in a bin. However, he thoroughly relished and ate the rest of the M&Ms. He then picked up a card with a picture that has the word "Candy" on it and gave it to me. It was his way of telling us that he wanted more M&Ms and was very persistent about it. The teacher told me later that although he likes chocolate, he doesn't get to eat much because he doesn't like to brush his teeth. Thankfully, he was one of those kids who were not sticky with routines. We gave him a firm "no" and later I saw him rampaging through the rubbish looking for the M&Ms that he had earlier threw away. It was then that I realised, as much we wanted to be nice to the kids, we may not be truly helping them without a clear understanding of their situation. Day 2 ended with a sumptuous break fast at the "Taste of Thailand," where we ate to our hearts' content.
Day 3 was the final day of our reflection together. It was a brilliant day as groups gathered at shady spots with a panoramic view of the pristine Lower Seletar Reservoir to resume our readings of Genesis. We were no longer strangers to each other but God has bonded us through the time we had spent together. We looked forward to reading God's Word afresh and sharing our stories and it reminded me of Acts 2:42 "And they devoted themselves to the apostle's teaching and the fellowship, to the breaking of bread and the prayers." The neighbourhood walk through buzzing Khatib in the late morning brought the participants to observe, experience and embrace the flavours of Yishun Town. The groups also had fun shopping for ingredients for the salad making. The afternoon was spent in a fruitful discussion of how we could reach out to our neighbours in Yishun with some time devoted to prayers. Groups also get to exercise their creativity in salad making with a Noah's theme. For our group, we even had pairs of animal cookies on board the lettuce "Ark." The finale was a pleasant surprise for all, as we broke fast together at Suki-ya. We are grateful to God and the leadership team of Evangel for all the wonderful programmes that were beautifully crafted and the generosity that went beyond satisfying our physical hunger.
page 1 | page 2

relational:
missional: