Evangel's 19th Blood Donation Drive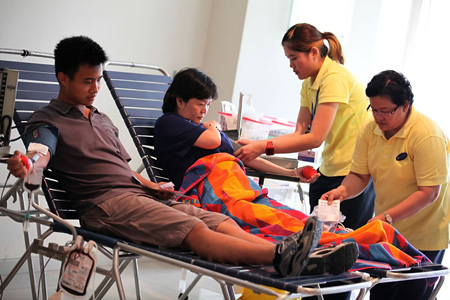 It was another hazy day but in the moderate range. Still, if you were to step outside, one could detect the pollutants in the air. But that did not deter Evangelites and our friends from Yishun community, who intentionally made their way to our premises to participate in Evangel's 19th Blood Donation Drive. We were also privileged to have our Guest of Honour, Associate Prof Ho Peng Kee, MP for Nee Soon East Constituency, together with his team who came to greet and encourage the blood donors.
The blood donors were of different age, gender, race and nationality. The youngest I spoke to was a 16 year-old young man who had just completed his "N" Level exams. It was his first time giving blood. Although, he was initially anxious and afraid of the needle, the friendly nurses from the blood bank soon put him at ease. I also met another student who had taken time off from his preparation for his "A" Level exams. Most kiasu Singaporean students would have stayed home to mug up but he chose to do something noble and global.
The families who took time out, together with their children, to donate their blood, were also a great encouragement to us. One Malay lady was all smiles and was glad to do her part to give blood. She even encouraged her daughter to join her and they were placed in beds next to each other. Later, in the afternoon, I met her again in the cafeteria, accompanying her son who had also just donated his blood. I was also happy to get acquainted with an Indian gentleman and his two kids. Originally from India, he had just returned to Singapore from Qatar together with his family just two months ago, having worked there for 2 years. This was his second time donating blood.
It is great to know that we do not have to wait until someone we know gets into a life-threatening situation to donate our blood but we can do our part to ensure that there is always sufficient bloodstock in our nation's blood bank.
Despite the haze and the rain in the afternoon, we had 160 successful blood donors. This is our second blood donation drive this year.  Altogether we had 322 successful blood donors for 2010. We are thankful to all who came forward to be global and noble at our 19th Blood Donation Drive. 

relational:
missional: