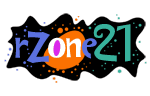 Radical Zone 21
The Young & the Restless
"The young and the restless" aptly describes the growing phase of our teens but RZone21 re-imagines and strongly believes that teens are the emerging youths of our time with great potential to maximize his or her talents.
Our Team
We aspire to be a radical place where teens in our community find their belonging, purpose and direction in their lives through God's message. Our dedicated and caring youth leaders befriend, guide and walk alongside with teens in their journey. We can be counted on to lend you an ear and an open heart.
A Radical Invitation
If you are in Secondary 1 or 2, we welcome you to RZone21. Don't waste your life living someone else's life but join us to discover fun and meaning in this not-so-adult time of your life. We gather here every Sunday @ 11am and invite you to part of our radical team.
What we do: Take part in the exciting stories of God and learn good stuff from the Bible every Sunday. Get to know friends your age and befriend us, the youth leaders. We also organize outings and special events throughout the year that you could participate and enjoy!
Special Events & Outings
At special events, we engage teens through exciting activities that enable them to express themselves creatively through dance, music and the arts. Also, take time to chill out with us in our outings and this is a great time for you to get acquainted with new friends and have an awesome time!